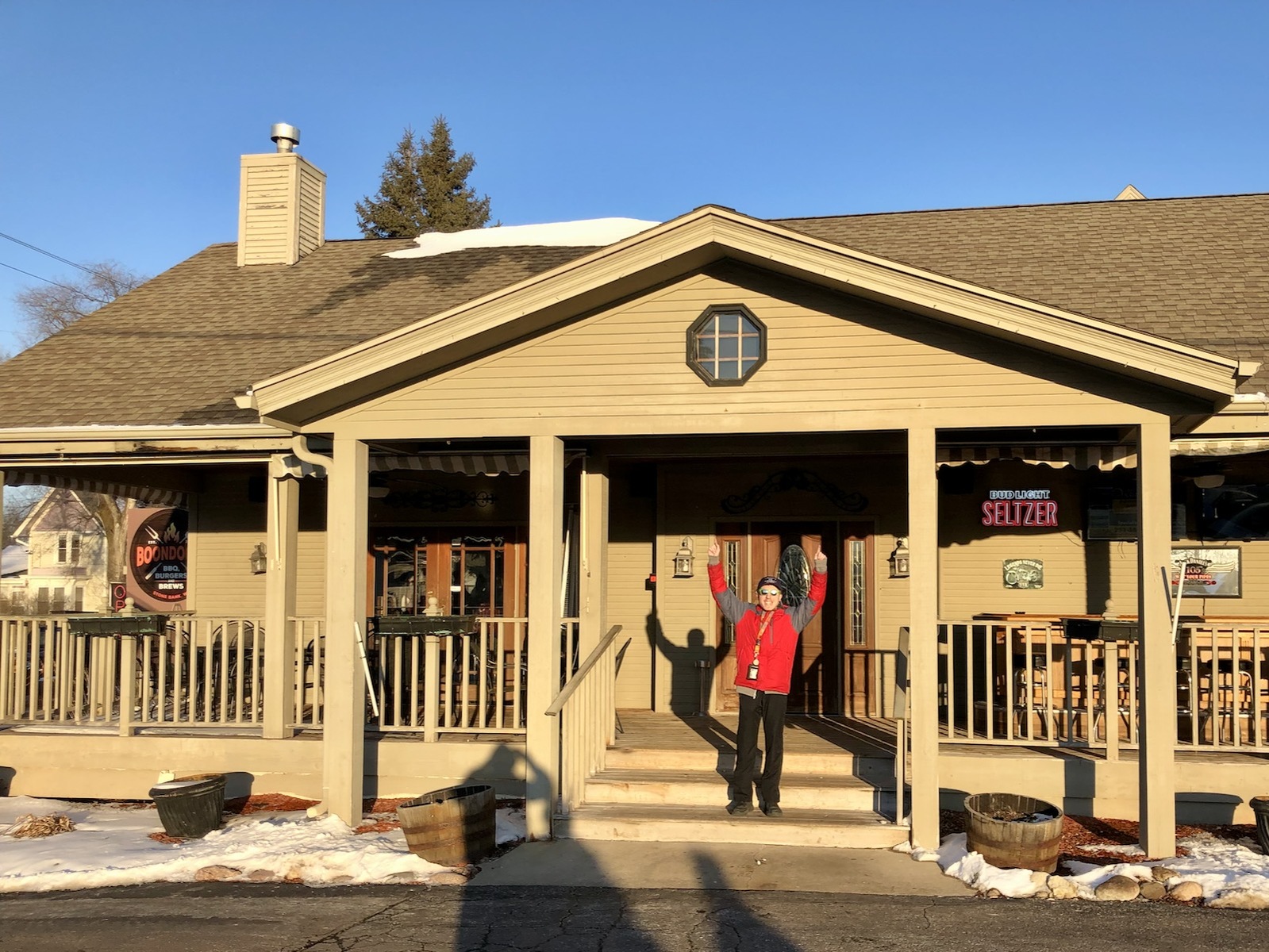 Boondocks BBQ Burgers and Brews
At OnMilwaukee, we believe in raising all voices and using our platform to support the dreams of others. And that's what we hope to do for Dominic the Food Reviewer. When I first met Dominic almost two years ago, I was impressed by his passion, curiosity and interest in improving his writing. Over time, I not only enjoyed getting to know him better, but he taught me as much as I taught him. I hope you not only enjoy reading Dominic's reviews, but also understanding and enjoying seeing the world of food through his eyes. — Lori Fredrich, Editor-in-Chief

This weekend I visited Boondocks BBQ Burgers and Brews. It is located at N67 W33525 County Hwy K in Oconomowoc. The restaurant is in a small town called Stone Bank.
I had the honor of meeting Samantha, the General Manager, our waitress Heidi and the owner, Tom Evert. He told me his nickname is "Tom Foolery", and that he used to operate Foolery's Liquid Therapy right on Lake Okauchee.
Barbecue was a hobby for him and his father while he was growing up. Tom opened his first restaurant in the 90s on Lake Nagawicka. He started Foolery's in Okauchee in 2010. Boondocks opened in May 2019. Before becoming Boondocks, it was called Joseph Armeli's Meat 'N' Place. They had to do tons of renovations before opening Boondocks.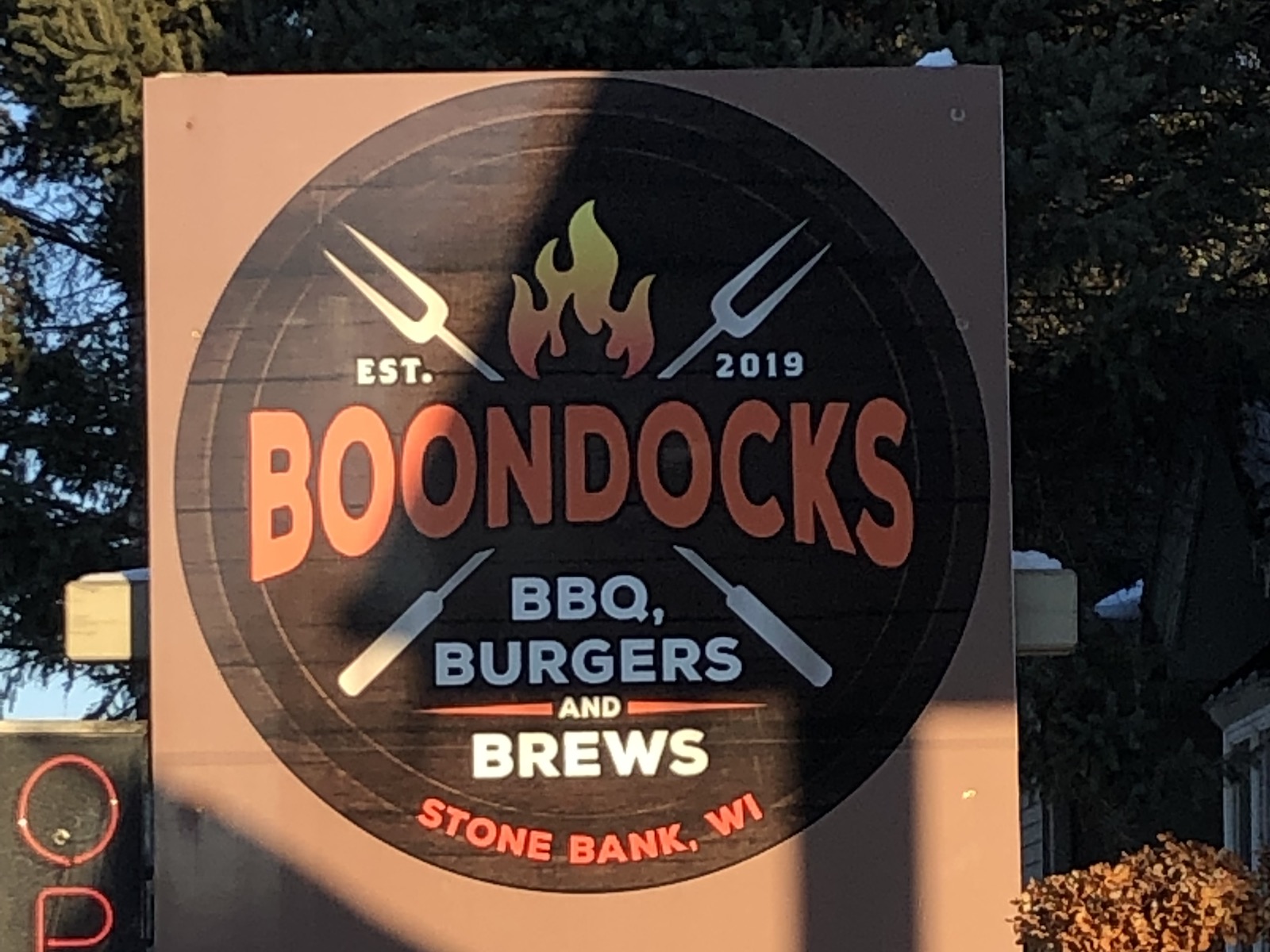 The ambience of the restaurant has a Northwoods theme with a very large bar and fireplaces with beautiful stones. They also have games that include coin dropping, slots, and a crane game.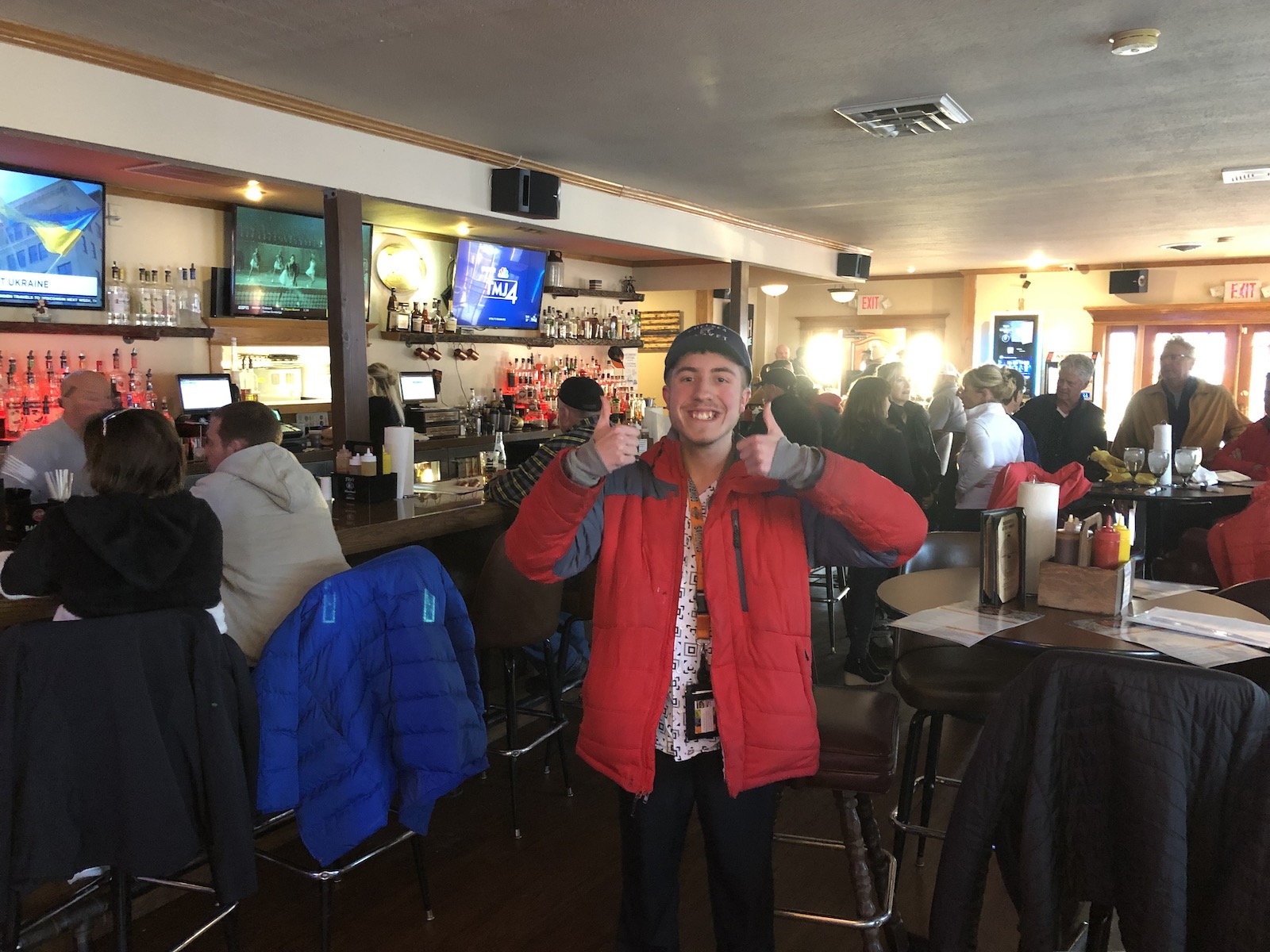 On every table in the restaurant, there are sauces such as Carolina mustard, Carolina vinegar, and homemade barbecue, which contains rum. Tom said all of their sauces are homemade and natural with no msg or anything artificial.
Some of their most popular dishes are chicken wings, which are dry-rubbed, smoked, and fried with gravy on the side. They're also known for their BBQ sampler platter, homemade cornbread, and specialty smoked prime rib on Saturdays.
For my appetizer, I got to try their smoked wings with Caribbean Jerk and Texas BBQ sauces.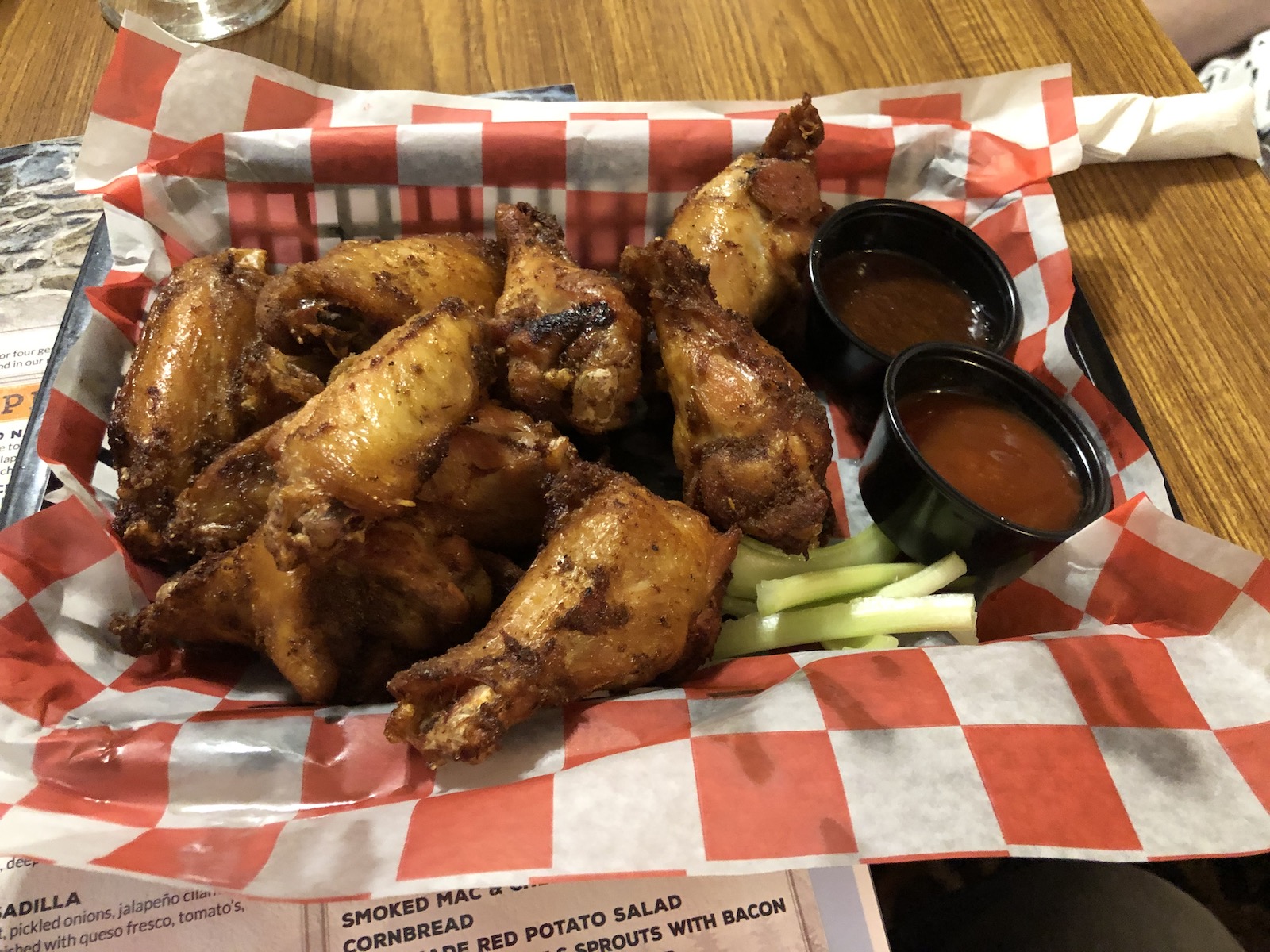 The wings were super tender and flavorful. The caribbean jerk sauce had a nice sweet flavor and a little tangy. This Texas BBQ sauce had a great smoky taste that was addictive.
For my main, I tried their BBQ sampler platter for two, which includes half a rack of ribs, half a pound of pulled pork, half a pound of brisket, and a choice of four sides.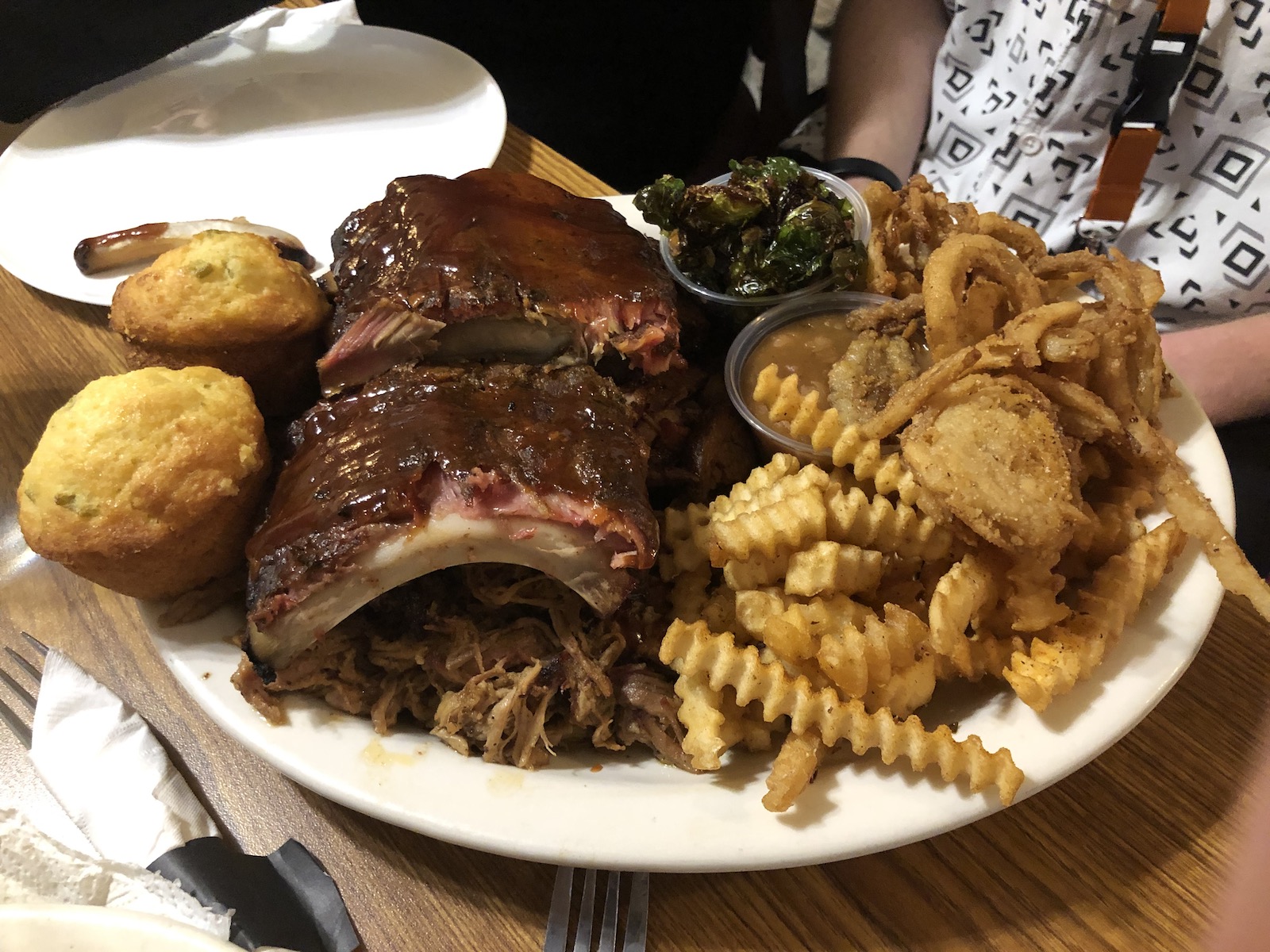 I must say that all of this was just appetizing. The rib meat just fell off the bone and had the perfect amount of seasoning on it. This half pound of pulled pork was very tender and I dipped it in my BBQ sauce. Their beef brisket just melted in my mouth. For my sides, I tried their baked beans, fried Brussels sprouts with bacon, crinkle cut fries and haystack onion rings. Their barbecue platters also come with their cornbread.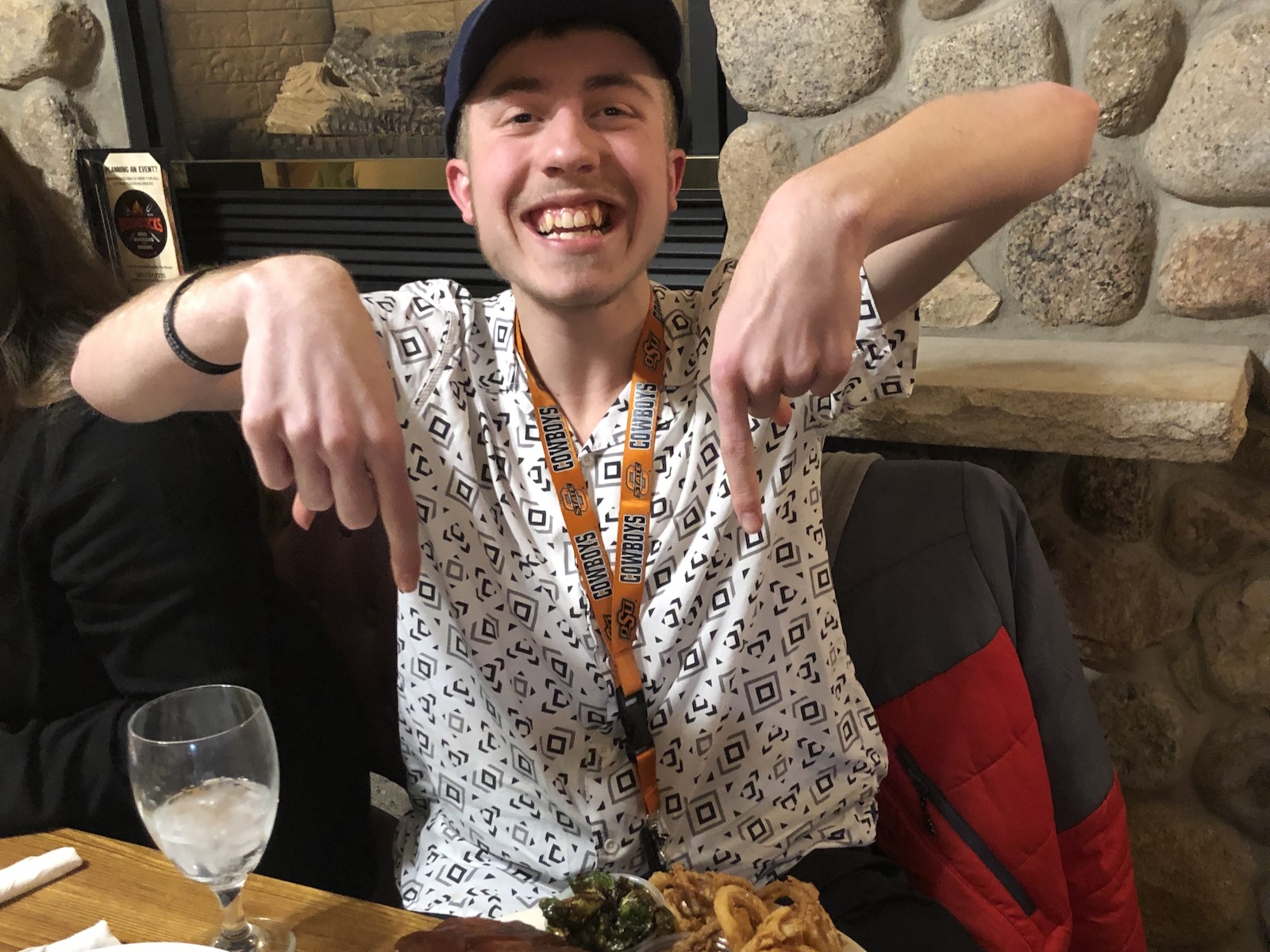 The baked beans had a slight smoky flavor and the fried Brussels sprouts tasted fresh. You can't go wrong with the haystack onion rings because I'm absolutely a big onion fan and they were perfectly crispy. Another is cornbread, because there's nothing at all like this cornbread with peppers in it. I could really taste that the cornbread was very moist and perfectly cooked. This cornbread shook.
For dessert I tried the Heath Bar homemade cheesecake. They made it look like a work of art with the whipped cream surrounding the cheesecake in the center of the dish. Their cheesecake tasted super sweet and it had a smooth texture. I liked everything.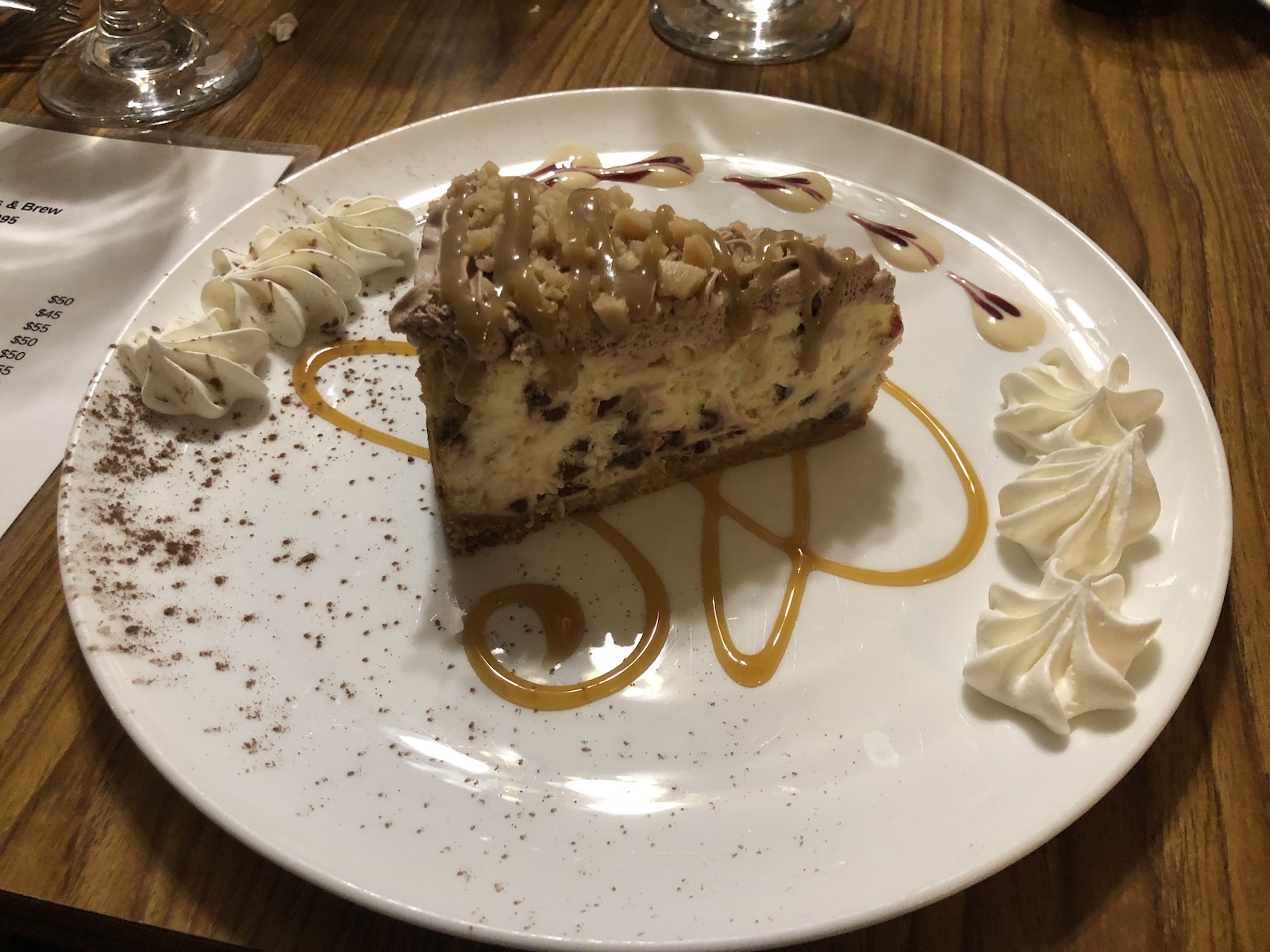 I would highly recommend checking out Boondocks as they have reasonable prices, large portions and tasty food. If you go try their wings, ribs and cornbread for sure.