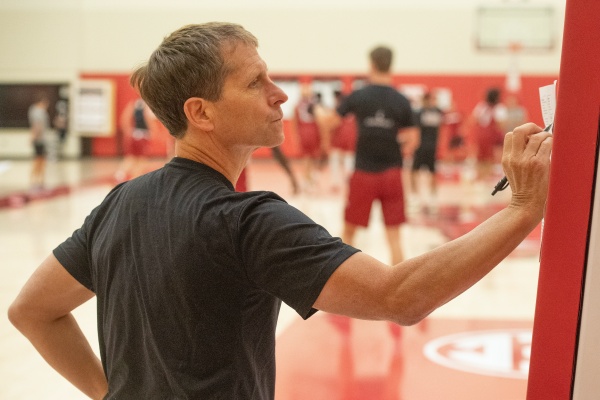 Data gives Razorbacks a "fair assessment" of the roster
FAYETTEVILLE — Arkansas coach Eric Musselman loves numbers.
It's not really a secret. Consistently throughout a season, he dives into analysis looking for solutions for the Razorbacks and as part of game preparation for each of Arkansas' opponents.
Ahead of his fourth season in charge of the Razorbacks, he sifts through more numbers and data than in any other preseason. This is all Arkansas-centric information straight from team practices and displays, and it's calculated internally.
"We record everything, and that gives us what I think is a really fair assessment," Musselman said Tuesday. "We've taken more stats this year than any other offseason. When we do 5-on-0 drills, we plan shots. When we are live, we take full stats.
More from WholeHogSports: Musselman and players update practices and preview Red-White game on Sunday
"It's just some things that we haven't really done in such detail in the past."
Essentially, everything the Razorbacks did behind closed doors and in their four August exhibitions in Italy and Spain was noted. The statistics have been broken down into three bodies of work: pre-overseas tour, overseas tour, and post-overseas tour.
One takeaway that Musselman has less than a week before the team's red-white game at Barnhill Arena is that the group, as a whole, needs to become more cohesive. Some players, he said, have performed well abroad, but their numbers have not carried over into pre-season training.
Musselman added that the Razorbacks needed to shoot the basketball with greater efficiency. The numbers in this area have remained stable, and not in a positive way, he said.
Various aspects of training and play analyzed so closely is a tactic Musselman and his team have employed to learn more about their roster earlier than in the past. More importantly, the data should be absorbed by the players so that they have a better understanding of their performance.
"We give them a daily update, then we give them a weekly update, then we give them a cumulative update," Musselman said. "They get three updates every day of their position, our team's position, our team's standings in college basketball from last year.
"I think that gives us a good barometer of where the guys are. Maybe six guys have really established themselves. We have four greats who are still battling over how this rotation will spread in the first two games. There isn't much time left after being together for a whole summer, a whole month of September.
"So there's a short window now to try to solidify where they could be to start the season."
In addition to the basic visual test and execution on the pitch, another metric taken into account comes from the jerseys worn by players during training. They generate readings that can be viewed later, detailing things like speed, energy exerted, and distance traveled.
Musselman noted that he is currently unhappy with the fitness of 4-6 players. On Monday, he took a break from practice and implemented a three-minute conditioning drill that Dallas Mavericks coach Jason Kidd uses with his team.
"I think because of so many new people, a lot of it was about how do you assess as quickly as possible with numbers," Musselman said. "If someone's inner circle wonders why they don't have the role they wanted, there's a lot of data – too much data, in fact, for us to use.
"It's very, very clear where each of our players ranks right now. For us it's pretty easy where the guys are lining up right now.