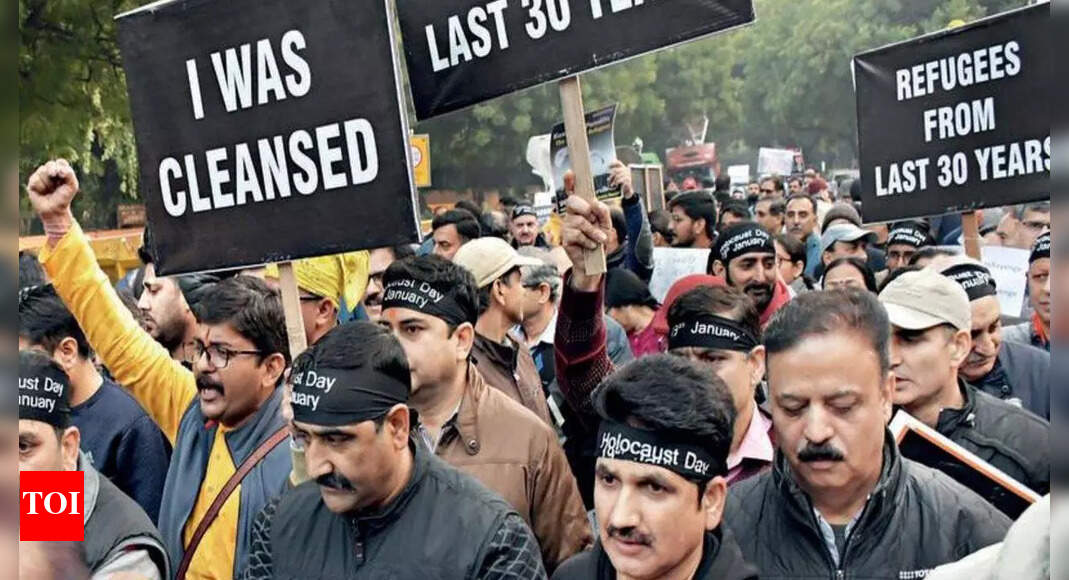 Improving cash assistance for displaced Kashmiri migrants 3 years ago: Parliamentary Panel to MHA | India News
NEW DELHI: A parliamentary panel called on the Ministry of the Interior (MHA) to increase the cash assistance provided to displaced Kashmiri migrants from the current scale of Rs 13,000 per family, recalling that it has been three years since it had been revised for the last time.
Noting that the increase in cash assistance to migrants from Kashmir was linked to inflation and the wholesale price index, and carried out after an interval of two or three years on the recommendation of the government of Jammu and Kashmir, the parliamentary standing committee on home affairs called for an increase in the amount of relief. Aid was last increased in 2018 from Rs 10,000 per family or Rs 2,500 per person to Rs 13,000 per family or 3,250, according to its 235th report tabled on Friday regarding action taken by the government on its recommendations. Rs per person.
The committee also sought to be informed of the progress made in providing telecommunications connectivity and electrification to the border villages of Ladakh. He had previously recommended the electrification of all villages in Ladakh, especially those on the zero border like Chumar and Demchok, in order to stop the migration of people from these areas. "This will greatly contribute to meeting the development needs of these remote but strategically important localities," he observed in a report presented following the stalemate in eastern Ladakh.
Also noting that of the 236 livable border villages of Ladakh, 172 had telecommunications infrastructure and that only 24 and 78 villages had 3G and 4G internet connectivity respectively, the committee stated that the importance of appropriate communication, including the Internet, has taken center stage during Covid-. Pandemic of 19 with the switch to education via online mode.
The Interior Ministry informed the panel that the standards of the Border Zone Development Program (BADP) were revised in March 2020 to cover all dwellings located between 0 and 10 km from the international border. The guidelines also contemplate a gradual extension of coverage beyond 10 km, once villages within 10 km are saturated.
The ministry said the list of border villages – 14,708 with the local government directory code (LGD) and 1,860 where efforts are being made to provide LGD codes – has been shared with the telecommunications department to provide a telecommunications infrastructure.
The MHA added that the Ministry of Power was requested to accelerate the electrification of the border villages of Ladakh.
Another key recommendation of the committee is a review and reassessment of the factors behind the growing number of suicide cases in the Central Armed Police Force (CAPF). Noting that 134 CAPF staff had died by suicide in 2020, the panel led by Congressman Anand Sharma pointed out that the two cause studies were conducted in 2004 and 2012, through BPR & D and IIM, Ahmedabad.