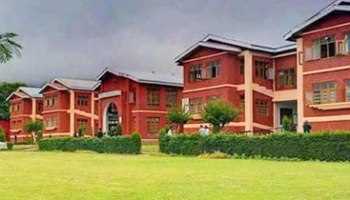 J&K Student Association Calls for 5th Semester Supplementary Examination for UC Students
The J&K Student Association here today has requested Lieutenant Governor Manoj Sinha and Vice Chancellor of Cluster University Prof. Qayyum Husain to conduct an additional 5th semester examination for students who have it missed due to the outbreak of the virulent covid-19 pandemic, held in February March this year. In a statement, the National General Secretary of the Danish Lone Association asked the authorities to consider this application on humanitarian grounds, bearing in mind the valuable careers of the students and the hardships and hardships the students had to undergo. due to the deadly covid-19 outbreak.
He said, We request the Lieutenant Governor and Vice Chancellor of Cluster University to conduct an additional 5th semester exam for Cluster University students who missed it earlier this year. Due to a deadly pandemic, many students missed the 5th semester paper (one for each subject for each student). Students who failed the 5th semester papers appeared in the entrance exam to different universities across the country and many had been put on the selection list, but due to the pending 5th semester exam, they will not be able to join the universities and left them anxious. and worried, he added.
Faisal Bilal, head of Union Territory Association J&K, said that since the university follows a semester pattern, where the exam is held once every six months. However, the university should consider the request to take the 5th semester exam like the previous year to save the precious time of the students who have been listed, otherwise they will lose their precious academic year and further delay will affect the students. future studies and career prospects of students. He urged the authorities to organize their examination on an expedited basis so that they can continue their studies, he added.