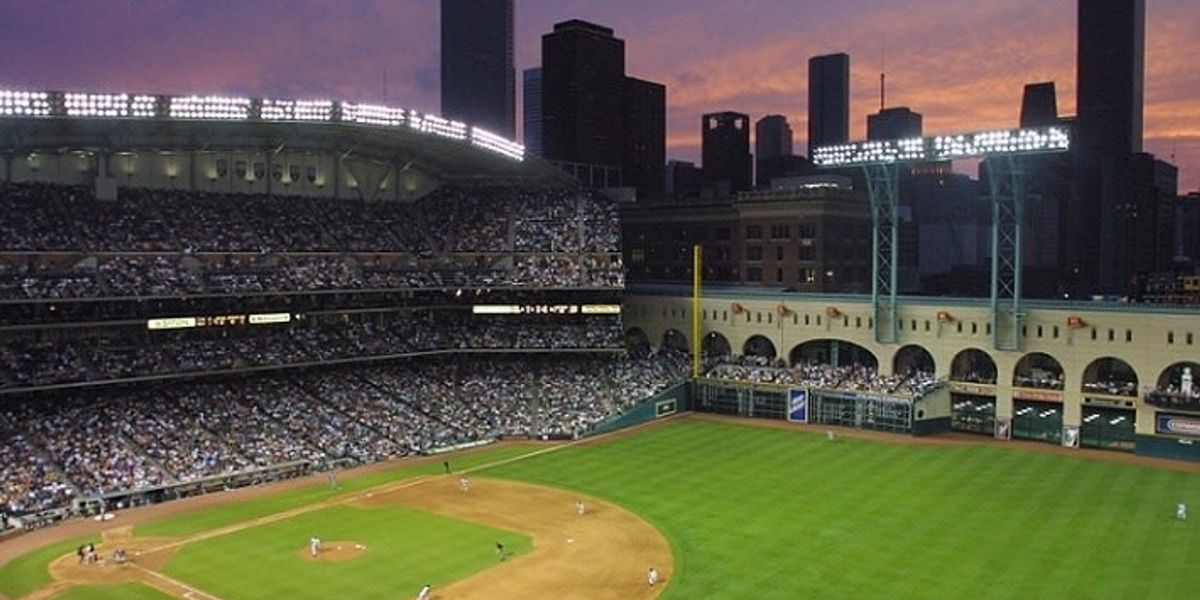 Latest Houston stadium assessment gives Oilers vibes
One thing about Houston, we have great sports venues, especially for our three major sports teams. Each has a distinct personality, from the nostalgic Minute Maid Park, to the lavish Toyota Center, to the technological marvel NRG Stadium.
But two of our venues received negative feedback at the recent State of Stadiums and Arenas conference in New York. According to Hunden Strategic Partners, a real estate development group, there are 20 major sports venues in the United States that are overdue for major updates.
By this, Hunden Strategic Partners means that they haven't had major renovations (over $100 million) in 20 years or more. Fifteen of these sites have not undergone any major renovations of any kind in the past two decades. Five have only had minor "reno's", as they say on those home and garden repair shows.
The worst offender is Anaheim's Angel Stadium, which has had no hardware updates in 56 years.
Minute Maid Park and NRG Stadium were on the list for only having minimal cosmetic work, you know, like Tom Brady. Allegedly.
Being called to the stadiums and arenas conference is like getting a letter from the HOA saying your garage needs painting and your landscaping isn't going to win the lawn of the week anytime soon.
Minute Maid Park opened as Ballpark at Union Station in 2000. NRG Stadium debuted as Reliant Stadium in 2002. Toyota Center opened in 2003, which may explain be why it is not on the list. He is not yet 20 years old.
The fact is that all three sites are in excellent condition. It's like the saying, if you stay in shape, you never need to get in shape. I visit them regularly and see no urgent need for major updates, certainly not worth $100 million, which would spark a heated debate in Houston – who is going to pay for the upgrades? Please, not taxpayers. If Floyd the Barber wants more luxury suites, he can foot the bill himself. The Texans are worth $4.7 billion. Already enough.
I'm happy to live in a city with professional baseball, football and basketball teams, and we have nice homes for them. I heard it from several people in the Astros front office – owner Jim Crane is a neat freak. Rockets owner Tilman Fertitta is passionate about the hospitality industry. Our facilities compare favorably to other cities. The three of ours are better than the three (four) in New York. Madison Square Garden would be the "before" and Toyota Center "the after" on Upper fixator.
I've put together a list: my favorite sporting and non-sporting experiences at Houston venues. What are yours?
Minute Maid Park
Favorite sporting moment: The 2005 World Series ended with Astros pinch hitter Orlando Palmeiro on the ground to complete a 4-0 sweep of the White Sox. The official World Series video captures the shot from short to first. I was seated behind first. I'm in the video. Silver lining.
Favorite non-sporting moment: I caught my one and only foul ball at Minute Maid Park. Kind of. I was sitting fifth or sixth behind first base. A foul ball landed in the photographers' pit. Announcer Greg Lucas picked up the ball, pointed at a little girl sitting a few rows behind me, and fired off a really weenie pitch. It would have pissed me off if I hadn't caught it. What to do now? If I kept it, I'd be the most horrible person ever. I gave the ball to the girl. But I promise you that if I ever catch a downright good foul, even if I'm sitting in a group of kids who just got out of the hospital, I'll keep it.
Toyota Center
Favorite sporting moment: I was in the stands for the Rockets' opener at their gleaming palace on October 30, 2003. The Rockets beat the Denver Nuggets, 102-85. Cuttino Mobley scored 21 points to lead the Rockets. Yao Ming had 19. To show you how the NBA game has changed, the Rockets made four of seven 3-pointers that night. These days, the Rockets play as many 3-pointers during the national anthem.
Favorite Non-Sporting Moment: I was there for Paul McCartney's 37-song, 3-hour concert on November 19, 2005. He did Yesterday, perhaps the greatest pop song of all time and the one he no longer performs. It was like watching Leonardo da Vinci paint the Mona Lisa.
NRG Stadium
Favorite Sporting Moment: A Sherpa guided me to the press box for the Houston Texans' first exhibition game on August 24, 2002. The Dolphins won 24-3 in front of 69,432 fans.
Favorite non-sporting moment: I was there for the first big concert at the stadium, the Rolling Stones, on January 25, 2003. I was in the eighth row – side of the Keith Richards stage. Their opening song was brown sugar, that they no longer play because of racial overtones. They closed the show with Satisfaction.