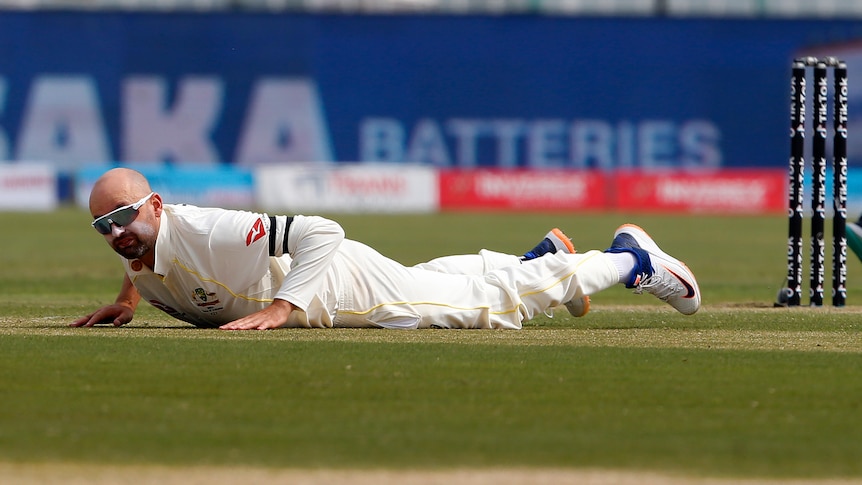 Pakistan dominate day two of first Test against Australia as Shane Warne thoughts linger in Rawalpindi
Pakistan strengthened their position in the first Test in Rawalpindi, challenging Australian bowlers on a long and difficult second day.
Played with the memory of Shane Warne visibly at the forefront of players and fans alike, it was a day of slow, methodical cricket that ended early when the light had deteriorated sharply.
Pakistan declared in the third session at 4-476, with Australia only managing to take three wickets on the day up to that point.
Azhar Ali (185) ended his century in a fabulous partnership with Imam-Ul-Haq (157) as the hosts sought to chase the Aussies out of the game.
Pat Cummins retired Imam after lunch with a ball that swung in the opposite direction and trapped the batter in front, but after that no wickets fell until Pakistan's desperation for fast runs increased.
Marnus Labuschagne completed a sharp direct kick run to take out Babar Azam 36, before Azhar's fine kick ended while trying to change Labuschagne's leg rotation on the court.
Pakistan had hoped to send Australia off for a tricky hour at bat but were only allowed one round before the umpires stopped play.
Australia are 0-5 at the stumps and face the daunting prospect of having to bat for at least a day or more to stay alive in the Test match.
See how the action unfolded in our live blog.
Live updates
IT'S STRAIN! Australia 0-5 runs per 471 runs
As expected then. The game will start half an hour earlier tomorrow to make up for lost time.
All Pakistan again today, with the hosts in a fantastic position to go on and try to win this Test. Australia have some serious batting ahead of them over the next few days to stay alive in this test.
The day belonged to Azhar Ali, who ended his century and began. He and Imam-Ul-Haq were particularly bright in this round, aided by a brief cameo from Babar Azam. All about Pakistan bowlers and Aussie batters tomorrow though, and that's where I'll see you next.
Until then, good night.
THEY ATTACK FOR THE BAD LIGHT
Hell of a sport we have here, hey. Stumps haven't been officially called up, but I'd be surprised if we saw more cricket tonight.
1st plus – Sajid Khan and his fabulous mo will play it
The refs got together late and decided it was now too dark for the rapids to play, so spin it. Blame the heavy roller, I guess.
Kinda weird, but it will now be Sajid instead.
It's all-member, Sajid Khan. A slide and gully in place for Khawaja, who works an offside fine for two to get out of the mark.
Two more at the deep point. What a strange turn of events, the sting of the statement has been toned down somewhat. Khawaja takes one to put David Warner on strike.
Warner can't get away with it, so only the five in the first round of innings.
1st over – Shaheen Shah Afridi will play the bowl
Usman Khawaja will go on strike, in a moment that will no doubt be of great importance to him as well.
Brief hold as the heavy roller VERY slowly leaves the field. I can't stress enough how long this gear takes to get out of the outfield. Okay, let's go.
45 minutes to play.
Wait, scratch all that…
Marnus the melon
Good point, 76 of his 160 Tests, or around 48%, have been against Pakistan – so 62% of a handful of wickets are pretty close to par – and/or luck.

-Mike
It also suggests to me that Marnus could and perhaps should play a bit more. The more Tests he plays overseas, the more that will happen, I would say.
DECLARATION! Pakistan call him on 4-476
It happened a little earlier than I would have thought, but it is clear that Pakistan wants to face them tonight. The light isn't great, which is probably also on Babar Azam's mind as he weighs his options.
The running pace never really picked up, but it's hard to fault this batting effort from Pakistan. They were pretty much flawless throughout and put Australia down before ending their own innings.
Interesting time ahead.
162nd completed – The charm of Labuschagne continues
Another nice ball that spins and takes advantage of Iftikhar. It's pretty safe and it takes two.
FOUR TRACKS! And there is the other side of Marnus. A full pitch is whipped through the midwicket for four by Iftikhar.
And two more through the same mid-region.
Eight from the top.
161st over – Mitchell Starc kicked the ball
So there are 20 overs left to play, but I doubt that will happen in an hour and 15 minutes at this rate. Also, we may see a statement shortly as it looks like all Pakistani players are cleared.
For now, Starc bowls.
Singles from each of the first three balls over, two to third and one to cover.
The scatter of the pitch is such that Starc has to sprint to the midwicket to start his own bowling. It is good to stick to one.
Four of the pluses, all singles.
Can a nation be described as a bowler's "rabbit"? 62% of Labuschagne's Test wickets were against Pakistan.

-Mike
I wonder what percentage of Labuschagne's test overs have also come against Pakistan.
160th plus – Marnus again
Iftikhar leads on the rise and pulls out two at the deep point.
One more now, suddenly taken cover.
Rizwan works another way and drags for a few more, before rolling to the floor for a single.
BEATEN! From time to time, he sends one that tears the stump.
The players go for a drink as eyes turn to the Pakistani dressing room – is a statement imminent?
159th Over – Hazlewood Bowling Again
His 26th over innings.
FOUR RACES! It's that simple ! Rizwan simply opens the face and pushes it out, and somehow manages to find the limit of the backstitch.
BEAUTIFUL PHOTO! Completely deliberate by Rizwan, he flicks his wrist and closes the gap between the keeper and the ravine. Four more.
Eight races from this Hazlewood.
158th finished – Labuschagne continues
Rizwan rolls on the floor and literally walks for his single.
Iftikhar is out of place with a long term single.
Three singles over when the score is 4-450.
157th Over – Hazlewood Once More
SHOOT! Well shot by Rizwan who finds the rope! Excellent shot.
Interesting running Iftikhar. Worked hard to complete what should have been an easy single and ended up collapsing on the crease.
An excellent alignment of Labuschagne in cover again deprives Iftikhar of his first runs. Five from there.
156th more – Marnus has two more to come
Iftikhar Ahmed is currently. He and Rizwan could bring fireworks.
Ifthikar plays them pretty safe.
OUTSIDE! MARNUS HAS A WINDOW! AZHAR OUT SWITCH-HITTING!
Azhar Ali's beautiful innings end on 185 and in an interesting way. He tried to switch Labuschagne shots with the spin, but made poor contact and gave Green the chance to run back and take a fairly straightforward hold at the backseat.
A formidable round of Azhar. He could hardly have done more.
156th plus – Labuschagne again
Rizwan's thick edge as he drives on a wide. The first sheet would have swallowed it, but the first sheet doesn't exist right now.
155th over – Josh Hazlewood back in attack
Short stay for Green.
CRY LBW! Hazlewood likes it, and so do I. The referee says no… and we won't have an exam. Rizwan was at the counter but far away. Still probably a missing leg.
Big innies hoops from Hazlewood, well guarded by Rizwan.
A good run is worth one more in Rizwan at the end of the pluses.
154th above – Marnus Labuschagne back in the attack
It looks quite practical in difficult circumstances.
Full and broad and chased to the deepest point.
CRY LBW! Carey loved him more than Marnus. I don't know where it actually hit Rizwan…could have hit the bat actually. Certainly not out.
BEAUTY! Great Labuschagne ball. Ripped that one past the edge of Rizwan's bat.
Rizwan fires one from outside the stump for one to finish the top, a good from Marnus.
153rd over – Green charges again
Serious reverse swing for Green, he's able to move through the air the most of any setter. Both directions too.
Azhar's thick inner brim avoids stumps and goes down to the thin leg for one more.
Just two from above. The game is not really progressing at the moment.