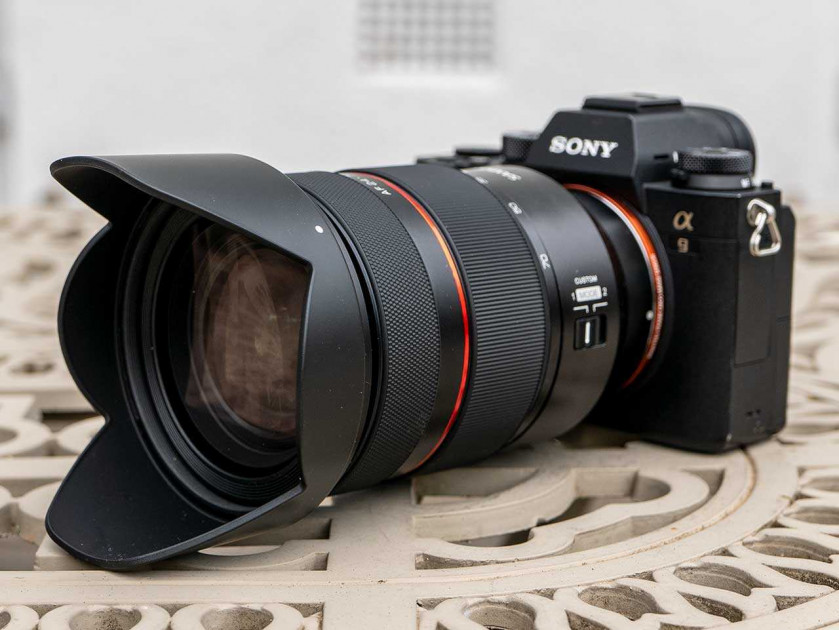 Samyang AF 24-70mm F2.8 FE Review
Introduction
The Samyang AF 24-70mm F2.8 FE is a fast standard zoom for Sony Alpha full-frame E-mount mirrorless cameras.
It will also work with APS-C sensor cameras with an effective increase in focal length to 36-105mm due to the crop factor.
It has 17 elements in 14 groups including 2 aspherical elements, one hybrid aspherical element, 3 HR elements and 3 ED elements.
It has a near-circular 9-blade diaphragm that creates attractive blurring in out-of-focus areas of the image, a minimum focusing distance of 0.35m (1.15ft), a stepping AF motor for fast and quiet autofocus, a configurable Custom Switch with two different modes, and it's also dust and moisture resistant.
The Samyang AF 24-70mm F2.8 FE lens is available now for £828/$999 in the UK and US respectively. It is made in Korea.
Ease of use
Weighing 1027g / 36.2oz and measuring nearly 13cm long, the Samyang AF 24-70mm F2.8 FE aluminum alloy body is certainly a substantial lens, rather eclipsing the Alpha A9 camera with which we tested it (mostly with the supplied lens hood installed), as shown in the photos below.
It's actually significantly heavier than its two main rivals, the Sony FE 24-70mm f/2.8 GM (886g) and the Sigma 24-70mm F2.8 DG DN Art (830g).
The lens extends even further by nearly 4cm when set to the 70mm focal length, with the shortest length at the 24mm focal length.

The build quality is excellent, which is kind of a bonus considering the budget price.
This lens has a dust and moisture resistant design that is sealed in seven different places, making it well suited for life in the field and in the studio.
The Samyang AF 24-70mm F2.8 FE lens has a metal lens mount. It accepts 82mm filters via metal threads.


There's a fairly large, textured focus ring at the end of the lens. There are no hard stops at the ends of the range, which makes focusing at infinity more difficult. Polarizer users should be pleased that the 82mm filter thread does not rotate on focus.
The lens uses a linear STM (stepping motor) for smooth autofocus, and its very quiet operation makes it well suited for video shooting.
As far as autofocus goes, this lens is quite fast, taking around 0.20 seconds to lock onto the subject when mounted on the Sony Alpha A9 we tested it with.


We didn't experience too much "hunting" either in good or bad lighting, with the lens focusing accurately the most, but not all the time. It's also a quiet performer, which makes this lens just as well suited for video recording as it is for shooting more candid stills.
The Samyang AF 24-70mm F2.8 FE is equipped with a custom switch on the side of the lens barrel. Essentially, you can use it to program the focus ring, with mode 1 setting it to manual focus and mode 2 turning it into an aperture control ring. Samyang also promises that more functions will be added in a future firmware update.


This lens doesn't have optical image stabilization, so it relies on the camera body's built-in stabilization, which is fine unless you own an older Sony Alpha camera.
The Samyang AF 24-70mm F2.8 FE lens comes with a soft drawstring bag and a good quality plastic petal shaped lens hood that twists into place.








Focal range
The 24mm focal length provides an 85.6 degree viewing angle.

24mm
The 70mm focal length provides a 34.4 degree viewing angle.

70mm
Chromatic aberrations
Chromatic aberrations, usually seen as purple or blue fringing along contrasting edges, aren't too much of an issue with the Samyang AF 24-70mm F2.8 FE lens except in very high contrast areas.

24mm

70mm
Vignetting
With the lens set to its maximum aperture of f/2.8, there is a slight drop in the corners, forcing you to stop at least 3 f-stops to prevent it entirely.

24mm

70mm
Distortion
The Samyang AF 24-70mm F2.8 FE exhibits a lot barrel and pincushion distortion, as you can see in the photos below, which you will need to correct in post-processing.

24mm

70mm
Sunstars and Flares
The Samyang AF 24-70mm F2.8 FE is able to produce some pretty nice sunstars when stopped at f/16 or f/22, as shown below, and the lens isn't very sensitive to glare even when shooting directly into the sun with the supplied lens hood installed.

24mm

70mm
Macro
The Samyang AF 24-70mm F2.8 FE isn't really a macro lens, but it offers a usefully close focal point of 0.35m / 1.15ft throughout the zoom range from the sensor plane. and a maximum magnification of 0.27x when set. at 70mm.






bokeh
Bokeh is a word used for out-of-focus areas of a photograph, and is usually described in qualitative terms, such as smooth/creamy/hard, etc.
Samyang has paid particular attention to this aspect of lens usage, using a 9-segment diaphragm with rounded blades for more pleasing bokeh.
In our opinion, their efforts were quite successful for a standard zoom – see the examples below to judge for yourself.










Acuity
In order to show you the sharpness of the Samyang AF 24-70mm F2.8 FE lens, we provide 100% crops on the following pages.