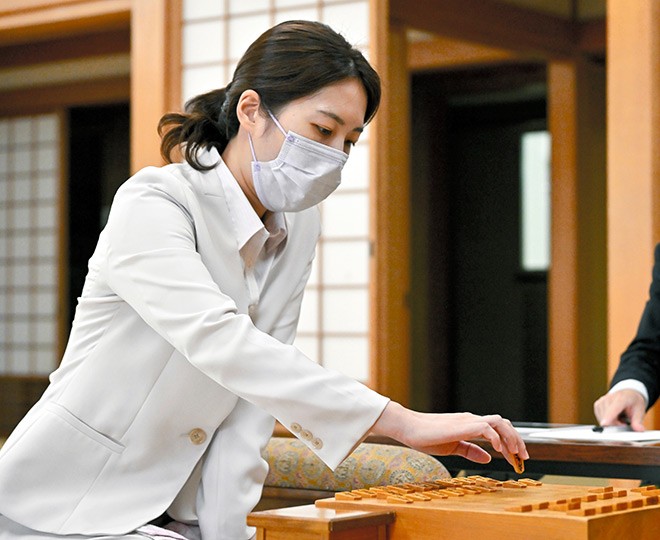 Shogi player loses first match to join top male ranks
Women's shogi queen Kana Satomi lost in the first round in her bid to break the gender barrier and become the first woman eligible to compete among the top professional male shogi players.
Five-time titleholder Satomi, 30, took on 24-year-old 4-dan Kenshi Tokuda at Kansai Shogi Hall in Osaka on August 18. She lost in 127 strokes in the opening match of a best-of-five tournament.
After the game, she remained fearless, while acknowledging the attention her historic effort is generating.
"I'm glad people are paying attention to me," Satomi said. "I will play the next rounds and the next ones preparing well."
She passes the exam to join the group of top professional shogi players known as "kishi". Until now, the ranks of the kishi were dominated by men.
If she wins three games, she passes the exam. She will then be promoted to 4-dan and become the first female kishi.
Currently, Satomi holds the status called "joryu-kishi" (female kishi). These shogi players are only allowed to compete with each other in principle, with the exception of certain tournaments.
Regardless of gender, graduates of Shoreikai, the professional training school run by the Japan Shogi Association, can become a kishi player.
Players must achieve shodan (1-dan) by age 21 and achieve 4-dan by age 26 to graduate from Shoreikan.
No woman has graduated from Shoreikai and become a kishi player.
Satomi attended the school from 2011 to 2018. She was promoted to 3rd dan, becoming the first woman to do so, but had to leave the school due to the 26-year-old age limit.
Satomi aims this time to become a kishi player by passing the transfer exam.
Satomi has participated in tournaments where female players are allowed to compete with kishi. She scored 10 wins and four losses which qualified her to take the transfer exam.
To pass the exam, a player must score 10 or more wins in tournaments against kishi players and achieve a winning percentage of 65% or more. Only four men have become kishi by passing the transfer exam.
His first opponent in the current tournament, Tokuda, made his debut this spring and is a promising player with 12 wins and 1 loss in official tournaments.
Satomi countered his flexible moves with his favorite strategy, using the center tower. But she was defeated by Tokuda.
The second round will take place on September 22 and Satomi will face Reo Okabe, 23, a 4 dan player.