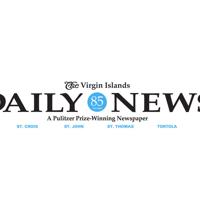 St. Thomas man to undergo psychiatric assessment after bank robbery | News
[ad_1]
A man who robbed a bank in St. Thomas on Friday threw the $ 2,160 he got from the heist on the floor in front of a security guard outside the bank and waited for the police to tell him. take him to jail.
Errol Jackson, 31, was arrested and charged with third degree theft and disturbing the peace. Unable to post a bond of $ 75,000, he was jailed until his notice of rights hearing in the Sixth Superior Court on Monday.
Jackson walked into the FirstBank branch in Fort Mylner shortly before 11 a.m. Friday and handed a cashier a note saying, "I have a loaded gun," according to an affidavit filed by police.
In accordance with the bank's security training, the cashier returned all of the $ 20 bills to his drawer. Jackson took the $ 2,160 money outside in his hands and "threw the money on the floor outside the bank" and ordered the security guard to call the police, according to him. the affidavit.
Another bank customer even tried to help Jackson collect the bills, believing he was a legitimate customer who accidentally abandoned them. But Jackson told him not to touch the money, which the employees collected and returned to the bank.
Officers responded and placed Jackson under arrest.
In an interview, Jackson introduced himself by another name, "John Joseph", and told police that he did not have a gun and that he only committed the theft because he was miserable and sick for life, "and that he would rather live in prison," according to the affidavit.
During treatment, Jackson also told the officer "that if he is released on bail and is allowed to leave the Bureau of Corrections, he will kill an inmate so he can stay in jail for a long time."
In court on Monday, investigating judge Paula Norkaitis, who recently took up her post after serving as a public lawyer, said she had previously represented Jackson and asked either party if they were 'objected to her setting a bond.
VI Deputy Attorney General Brenda Scales and Territorial Public Defender Mary Ann Matney did not object, and Norkaitis reduced the bond to $ 50,000 in cash.
She ordered him to undergo a psychiatric and psychological assessment and said she would consider further varying the bond if he finds anyone willing to act as a third party custodian while awaiting trial.
Jackson was born in St. Thomas and "has been here his entire life," said Matney. "He's homeless. He has relatives on the island, Your Honor, but I don't think there are any who are able to help Mr. Jackson at this time.
Matney agreed Jackson should undergo a mental health assessment and said she feared Jackson might be a danger to himself.
Scales said Jackson wanted to stay behind bars at all costs.
"He threatened to kill if he was released from the Corrections Bureau," Scales said.
[ad_2]