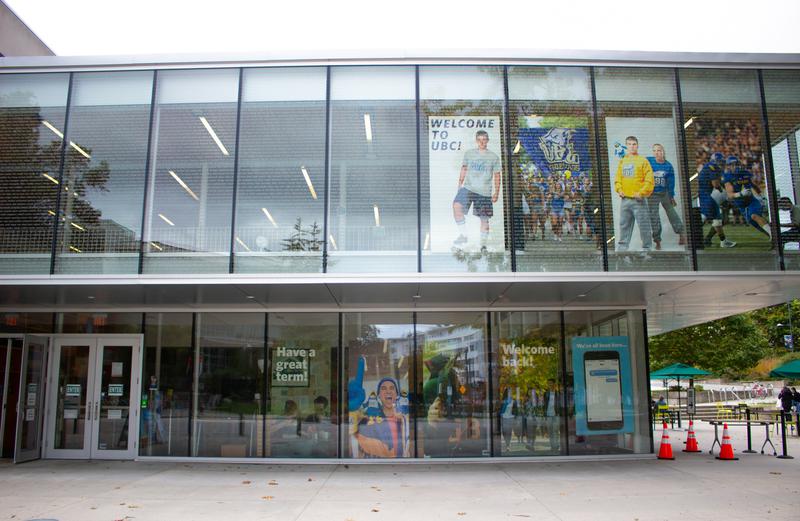 The good the bad and the ugly
Sometimes the school-minded machine forgets to innovate. Victoria Lee File
We love UBC. Go to an elite school, among the best ranked in the world, is of course something we would like to evolve, especially with good UBC branded clothing. But for such a large school with such a huge operating budget, the boy is dull school merchandise. There aren't many viable options, and clothing is generally divided into three groups: the good, the bad, and the ugly.
The Good: The classic UBC sweater
First of all, we have The Good. There is nothing wrong with this one. In fact, it is almost the opposite. The fact that this is the crème de la crème of UBC merchandise is why this is the only sweater we buy. So, what if you're pretty much guaranteed to see a wave of college students (or overconfident high schoolers) walking near you, all in the same sweater, on your daily strolls through the main mall? There's just something about looking like generic UBC clones that gives us all a weird sense of community. If you didn't buy a variation of this overpriced sweater, with the big embroidered UBC letters in your freshman year, are you really even a UBC student?
The Bad: The faded t-shirt
Then we have The Bad. This shirt and others like it, with nothing but a faded pattern on a thin charcoal T-shirt, is a big no on my part – there's a fine line between aesthetically minimalist and downright simple and boring. Intended to provide a plus nervous aesthetic, it just looks old and worn out, like a Walking Dead counterfeit series (or the last season of The Walking Dead). A nicer, bolder font paired with our school's actual colors would have been a good idea. It isn't enough to put a mark on clothes like this to save it.
The Ugly: The V-neck
Last, and less, we have women's clothing in general. The designs speak for themselves. As for the love of God, Why Are there so many v-necks and dated designs? It's like UBC is obsessed with slapping them on every female piece of clothing. Believe me, I love a good V-neck, but it's just that there is a time and place for it. It is not one of them. It was one thing to put them on t-shirts, but to do it on a hoodie and make it a short, sleeveless v-neck is a blatant violation. Students want something that is timeless, something that lasts and will never go out of style. These designs were out of fashion from the day they were published.
Ultimately, fashion is subjective and you can wear whatever you like. That being said, just make sure you really, really, think about it, and make sure you like it before you drop your next $ 60 on something with a UBC logo on it on a whim.