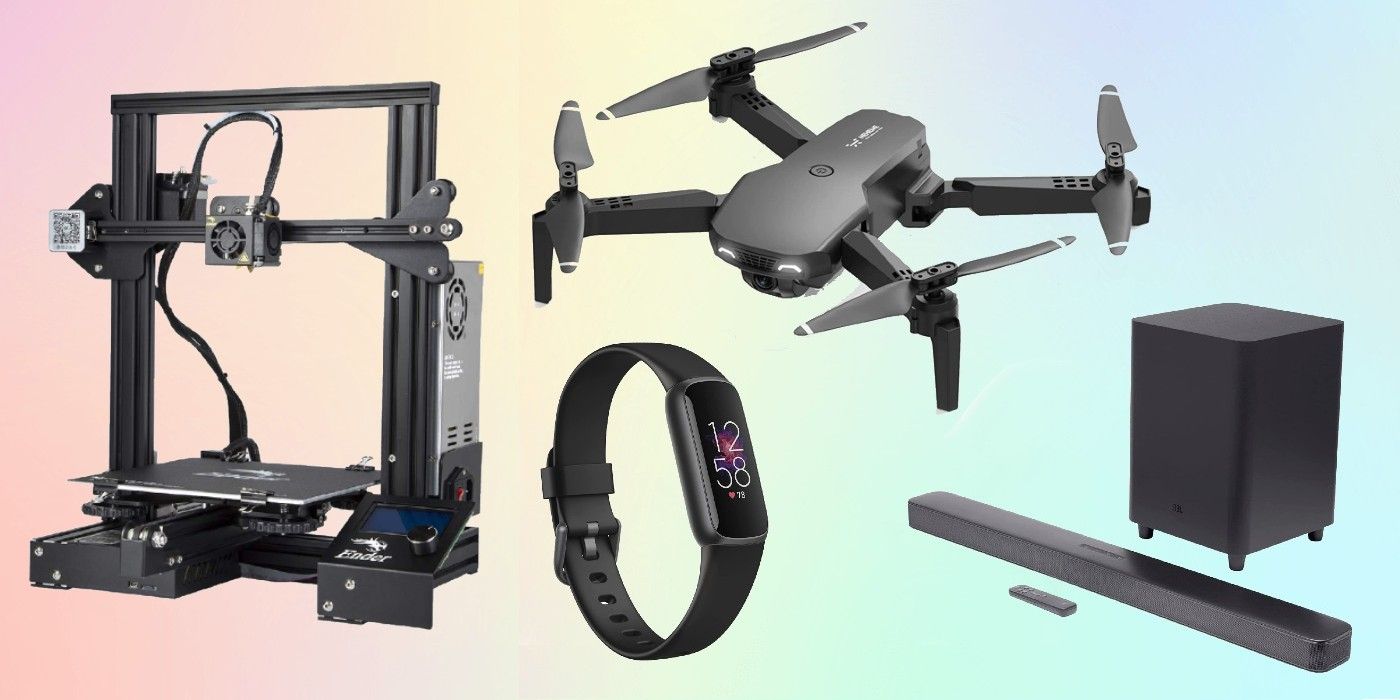 Today's Top 10 Amazon Daily Deals
While local stores can be great for buying used clothes, food and items, Amazon is the best place to get high quality products with fast shipping and little hassle. With a Amazon Prime account, it can be even better, because Amazon offers deals every day. Right now, the Early Black Friday and Prime Exclusive Deals are in addition to the standard Lightning deals to offer a wide variety of savings.
In fact, there are often so many great deals out there that it can be overwhelming to sift through them all. For those looking for sales on electronics or ideal gifts for friends and family, these 10 products are among the best daily deals for Thursday, November 10, 2022.
Amazon Echo Buds
List price: $119.99
Offer price: $69.99 (42% off)
Available in black and glacier white
For the person who constantly moves, Amazon Echo Buds can be an incredibly useful gift to keep them productive in any situation. A powerful blend of standard earbuds and the Amazon Echo system, users can use their Echo Buds to listen to music, make calls, or use the Internet with ease.
RELATED: 10 fun gadgets from the 80s that you can still buy today
While the earbuds are on par with many other major competitors, one reviewer pointed out the main benefit of this product: "Many other earbuds can integrate with Alexa (and other assistants), but to activate them, you have to press the headphones. Being able to just talk to Alexa anywhere and everywhere is magic."
JBL 5.1 bar
List price: $599.99
Offer price: $349.95 (42% off)
Looking for premium sound without complicated setup? The JBL 5.1 bar is the perfect system. The soundbar creates digital surround sound, enhancing any entertainment system without having to coordinate multiple speakers. The included wireless subwoofer takes this to the next level, delivering powerful bass in sync with music, movies, and video games.
As one impressed customer described, "I am blown away by the cinematic sound of crystal clear dialogue and thundering bass from this huge subwoofer. Super easy to hook up with the blue tooth! Four thumbs up for us. .. our not so neighbors."
6111 Great Northern Popcorn Popper
List price: $174.95
Offer price: $148.50 (15% off)
Is there anything better during a movie marathon just freshly baked popcorn? For the dedicated movie buff who wants to live the experience, a high-quality popcorn maker can make home a paradise. The 6111 Great Northern Popcorn Popper is perfect for this purpose, with quality components for easy cooking and cleaning, as well as a classic look.
As one reviewer said, "Just drop in the oil and season for about 3 minutes to get everything sizzling, then toss in the kernels. The popcorn is perfect, not a single piece is too much or not enough seasoned. Just like bringing home from the cinema."
IPX7 waterproof shower speaker
List price: $139.99
Offer price: $37.99 (73% off)
There may be better fixed PA systems out there, but the IPX7 waterproof speaker is a versatile speaker that delivers powerful sound and light from the shower to the party. In addition, the speaker is equipped with microphones that allow hands-free calls and music control. Finally, 5th generation Bluetooth and ultimate waterproofing means the technology is truly capable of handling any environment.
RELATED: The 10 best Black Friday deals on Amazon
As one satisfied customer put it, "The price was phenomenal for reviewers, sitting neck and neck with speakers three to four times its price. Volume, treble range, and bass depth all exceeded the waits of a mile."
GEREFEREN Telescope
List Price: $439.99
Offer price: $129.99 (70% off)
For the science fiction fan who dreams of space travel, the GEREFEREN Telescope is the first step towards a career in astronomy. From the moon and stars to meteor showers and planetary alignments, this telescope can make the universe seem much closer than they imagine based on what they can see with the naked eye.
The telescope has a focal length of 400mm (f/5.7) and an aperture of 70mm, which ensures a clear and meaningful view, as well as adjustable lenses that can increase magnification from 16 to 120 times. In addition, the phone mount allows for high-quality photos of the cosmos. Buyers should be aware that reviews on this Amazon page are not for the telescope.
Pop culture themed wooden spatulas
List price: $19.90
Offer price: $11.99 (40% off); get extra 30% off with coupon
Products are available with references to Friends, Winnie the Pooh, Nightmare Before Christmas, Harry Potter and Star Wars. Prices vary.
For the true superfan, these Pop culture themed wooden spatulas are the perfect example of passion in the kitchen. Each themed spatula set includes five bamboo kitchen implements with images and quotes from the chosen franchise, perfect for housewarming gifts or holiday gifts for budding chefs.
One customer described their buying and donating experience, saying, "I bought these for my best friend. She's obsessed with Tim Burton and Nightmare Before Christmas, so it was perfect because she also loves cooking, so the fact that I can put two passions together makes the present so much better."
NEHEME NH525 Foldable Drone with 1080P HD Camera
List Price: $99.99
Offer price: $39.99 (60% off)
Now that it's been a few years since drones have been readily available to the public, the NEHEME NH525 Foldable Drone with 1080P HD Camera is an adaptable option at a great price. The system has multiple modes, including hand gesture-triggered photos and intuitive flight planning, to help beginners get started and take high-quality photos of themselves and the scenery.
RELATED: 10 best electronic devices and smart accessories compatible with Alexa
One satisfied reviewer described their experience: "I had no experience flying drones before this and this drone is a great starter. The controls are super easy to use and for the money and overall functionality this product to my opinion really can't be beat."
Fitbit Luxe Activity and Wellness Tracker
List price: $129.95
Offer price: $79.95 (38% off)
Available in Black/Graphite, Lunar White/Soft Gold and Orchid/Platinum.
The first step in health management is to acquire knowledge about it, and the Fitbit Luxe Activity and Wellness Tracker is perfect for this purpose, tracking stress levels as well as other major health factors. Plus, every purchase comes with a 6-month trial of Fitbit Premium.
While the Fitbit Luxe isn't as advanced as an Apple Watch, those who enter it with reasonable expectations have found it to be incredibly effective. As one reviewer said, "I wasn't ready for smartwatch trackers, but this tracks my exercise and sleep really well. Having FitBit premium also makes a big difference in analyzing my health data. The device itself is sleek and I can wear my favorite jewelry."
Official Creality Ender 3 3D Printer
List price: $249.99
Offer price: $189.00 (24% off)
For the creative soul who can't just create 2D masterpieces, a 3D printer can open up a whole new artistic medium. The Official Creality Ender 3 3D Printer is a great beginner's product because it's easy to get started and easy to master. While some reviewers call the assembly instructions difficult, the 3D printing community is very supportive and can help those who are struggling.
As one reviewer explained, "If you're new to this hobby, I recommend buying this printer. Watch lots of videos to learn how to put it together. Take your time. I had a great experience. "
Jumper Laptop 14 Inch
List Price: $899.99
Offer price: $269.98 (70% off)
While some people need the most high-tech computer, most people just need something that will get the job done. The Jumper Laptop 14 Inch is a solid option for a cheap but good quality laptop. Equipped with Windows 11, an Intel Celeron processor and 12 GB of RAM, this computer is capable of doing everything a more expensive computer can do, without unnecessary features.
As one happy customer explained, "It does everything I need from bills to social media and email. It's so easy to use even for someone who isn't computer savvy. "Laptop works much better than I expected. Very light and therefore easy to carry around and I got it at a great price. Highly recommend."
NEXT: The 10 Most Popular Launchpad Toys on Amazon That Make the Best Gifts
---
Disclaimer: The links included in this buyer's guide are affiliate links. Screen Rant cannot guarantee product availability or pricing.