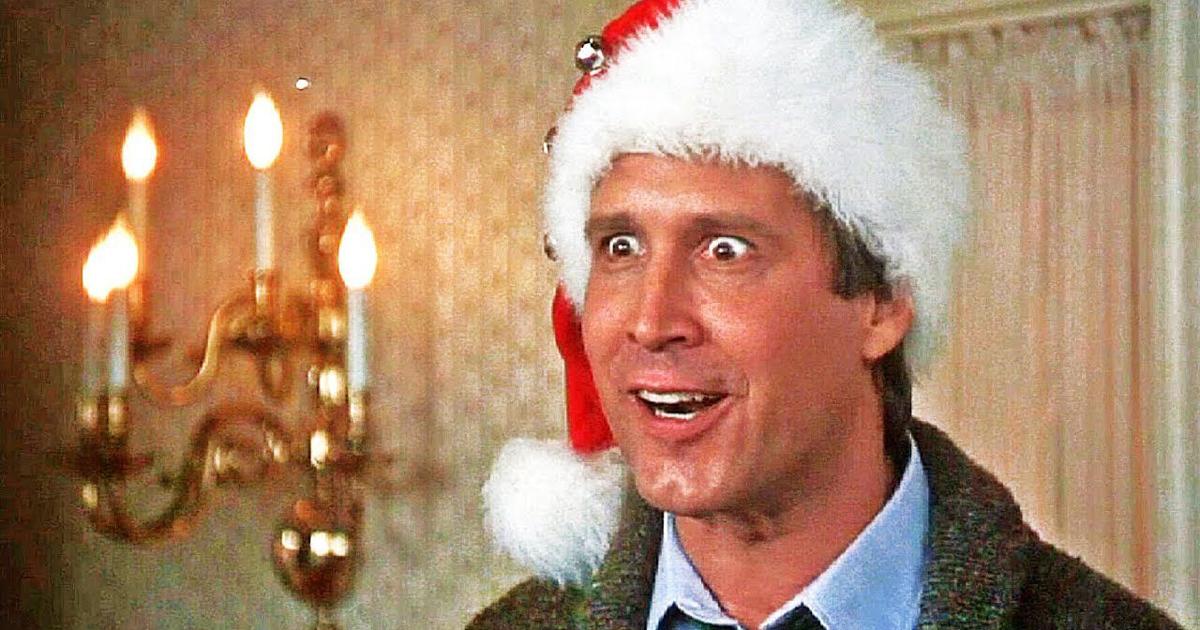 Why We Love These Christmas Movies | Comments
It's Christmas movie time. Here are some of our favorite picks:
"National Lampoon Christmas Vacation" (1989)
• By Lucas Cone, West Valley High School, Grade 12:
"I don't know what to say, but it's Christmas, and we're all in dire straits."
"National Lampoon's Christmas Vacation" is, dare I say it, the greatest Christmas movie of all time. The story follows family man Clark Griswold (Chevy Chase), whose goal is to throw a big family Christmas at his home. As the film progresses, things don't go as planned and Clark's zest for life is pushed to its limits.
Of course, it may not have the sheer charm of a classic like "Rudolph the Red Nosed Reindeer" and it may not contain as many deep themes as "It's a Wonderful Life" or "A Christmas Carol" . But what "Christmas Holidays" lacks in these areas, it makes up for with a simple rating. It's so full of memorable lines that I could probably recite them all, scene by scene. Partly maybe that's because I've watched it every Christmas since "Gangnam Style" hit the charts, but that's not the point. The whole film makes me nostalgic for a time before I even existed because, when I watch it, I feel like part of the family.
"Christmas Holidays" will make you laugh, maybe make you cry, but above all, it will make you think, "At least my Christmas wasn't that bad. "
• By Gracie Miller, Eisenhower High School, Grade 12:
In the Miller family, "National Lampoon's Christmas Vacation" is a vacation staple. For as long as I can remember, we've watched this movie starting at Thanksgiving and at least twice a week until Christmas.
We never tire of it, and we quote it all year round. Sometimes if someone calls me Grace instead of Gracie, I say, "Grace? She passed away 30 years ago!
Every situation in this movie defies logic in such an incredible way that everything works out perfectly. The Griswolds are exaggerated in a way that audiences can laugh at, not with. The film is shrouded in deliberate absurdity.
Filled with nonstop hilarious moments, gorgeous cinematography and a heartwarming storyline, "Christmas Vacation" is an iconic film that will remain relevant for many years to come.
"Home Alone" (1990)
When it's time to release the Christmas movies, "Home Alone" is usually one of the first we watch. With his slapstick humor and many subplots, he's always been a family favorite.
The best part of the movie, however, is the ingenuity of young Kevin McCallister as he outwits Harry and Marv, aka "The Wet Bandits". Because "Home Alone" was a staple movie growing up, I've always been amazed at Kevin's creativity – throwing a living room dance party with a cutout of Michael Jordan and models, arranging the Matchbox cars, and creating his own. own zip line. His "battle plan" inspired me on the rare occasion when my brothers and I had planned a Nerf gun war.
"Home Alone" continues to be one of my favorite Christmas movies, and I constantly enjoy its bursts of creativity.
– Kate Bethel, Riverside Christian School, Grade 12
"Let it snow" (2019)
Many people love a simple and heartwarming Christmas flick while curling up by the fire during the holiday season, while others lean towards a Christmas flick that makes sense. One of my all-time favorite Christmas movies has a bit of both.
"Let It Snow," a 2019 Netflix original, has become my favorite holiday movie. With a little humor and a touch of romance, this Christmas movie has it all.
"Let It Snow" is based on the 2008 bestselling novel "Let It Snow: Three Holiday Romances" by John Green, Lauren Myracle and Maureen Johnson. The film connects three intertwined and diverse storylines that involve the stories of eight high school students during a snowstorm that blows over a small suburban Illinois town.
One plot involves a romance between a traditional family girl, played by Isabela Merced, and a rising pop star, played by Shameik Moore. Another brings excitement and drama with a classic love triangle with actors Kieran Shipka and Mitchell Hope. A third plot follows a waitress struggling with a difficult friendship while trying to make amends with her crush, performed wonderfully by Liv Hewson.
For me, this film achieved everything I expected – a series of light-hearted stories embellished with heartfelt messages. I love the aesthetic of the snowy backdrop to "Let It Snow", which provides viewers with appropriate seasonal cheer. If you are someone looking for fast paced, endearing vacation drama, "Let It Snow" won't disappoint.
– Macie Ladd, Selah High School, Grade 10
"Klaus" (2019)
Directed by Sergio Pablos and released on Netflix, the animated story of "Klaus" centers around a young mailman named Jesper and a reclusive toy maker named Klaus who brought joy to a dismal and conflicted village.
The movie offers a unique story of Santa Claus, and I like the fact that it's not centered on Klaus. Throughout the film, viewers can see Jesper's journey, as well as his growth and development as a character. While the animation is done in 2D, the lighting, shading, and texture make it appear almost 3D. The facial expressions and exaggerated movements of the characters add to the overall humor of the film, and I love the eye-catching details in the graphics.
I first watched "Klaus" with a few friends on Teleparty, Netflix's group watch service. I remember expecting this to be a silly children's movie, but I really enjoyed it. "Klaus" creates a humorous feel-good atmosphere, perfect for a bowl of popcorn and a movie night with friends and family.
– Jillian Strother, Riverside Christian School, Grade 10
"Love, in fact" (2003)
In Richard Curtis' 2003 film "Love, Actually", the theme is "Love Is Everywhere". This movie still stays in my mind as one of the greatest romantic comedies of all time, starring 10 intertwined love stories that encompass the good, the bad, and the ugly.
Set in the weeks leading up to Christmas, the film is humorous, heartbreaking, and at its core is a series of overflowing, wacky romance perfect for the season.
The film is filled with all kinds of relationship dynamics. Flirtation, secret desires, first loves, weddings, friendships, family – it's all there. Some of these relationships have happy endings, while others are bittersweet. That's why I love him. Not all of the stories end well, but the film as a whole leaves you with a heartwarming feeling.
– Gracie Miller, Eisenhower High School, Grade 12
"The Polar Express" (2004)
During the holiday season, one of my favorite things to do is grab a cup of hot chocolate, a soft, fluffy blanket by the fire, and watch my favorite Christmas movies.
My favorite Christmas movie of all time is "The Polar Express". Throughout all of my childhood Christmas memories, I always remember watching "The Polar Express" while baking Christmas cookies with my family. I grew up alongside this movie and I love not only the songs in it, but the sense of its story as well. The music in this movie creates such a majestic and wonderful feeling full of Christmas cheer and helps me feel ready for the upcoming Christmas season.
From an early age, this production reminded me of how much more Christmas is than just a party filled with delicious food. It is about much more, including forgiveness, the gift of giving and loving one another. "The Polar Express" is a nice reminder that this holiday season we have to remember what Christmas is.
– Lexi Barbee, West Valley High School, Grade 12